It's actually hard to get white supremacists together. Some wear pointy hats and call their leaders wizard and cyclops. Others wear camp military costumes adorned with an Aryan touch. Personality disorders run rampant, complicating any efforts to get this diverse group to leave the dark corners of the internet and come out into the light to join together and celebrate their common hatreds. Donald Trump's candidacy for president has done this, etching itself into the nation's history by kindling our country's deep-seated embers of hate.
White supremacists are uniting to express their love for Donald Trump. He's expressed his love for what Hillary Clinton termed as the Deplorables. Do the math: Clinton coined the term at a fundraiser while suffering the effects of pneumonia. The now-famous line has Clinton telling her audience that half of Trump's supporters could be put into a metaphorical "basket of deplorables." They were his "racist, sexist, homophobic, xenophobic, Islamophobic—you-name-it" backers.
I'd argue that one half was a rather low estimate, considering, for example, how his clear calls for racial and religious profiling are central to his candidacy. Clinton, however, quickly backed down and apologized that it was too high. Either way, the allegation is out there.
We already heard from Trump over the past few months that nobody loves black folks as much as he does, that he loved Hispanics and taco bowls, he loved his black and Hispanic workers who he cheated out of wages and his tenants of color that the federal government forced him to rent to. But he never adequately condemned his growing legion of white supremacist supporters or let them know that their bromance was over.
This was clear last week in Washington, DC, when leaders of various white supremacist groups got together for a press conference at the Willard Hotel to express their newfound unity and support for Donald Trump's run for the presidency. Present were the leaders of various hate groups who gathered as the "Alt Right," referencing a moniker that one of them coined eight years ago. Marin Cogan, writing for New York magazine, reported that an activist at the press conference attempted to sign up reporters for a twitter feed named "Cattle Cars," a celebratory reference to the Holocaust.
The movement was previously a rather obscure Internet phenomenon drawing attention for celebrating the Holocaust and "white nationalism," while promoting segregation and obsessively attacking feminism. More recently, it appropriated the Pepe the Frog cartoon character as its symbol and has attached itself to Donald Trump's coat-tails and risen dramatically in prominence. Trump, for his part, has retweeted some of their messages, and hired Alt Right supporter Stephen Bannon as his campaign manager. Bannon is the former chairman of Breitbart Media. In an interview with Mother Jones magazine at the Republican National Convention in July, he described Breitbart as "the platform for the Alt Right" movement.
As Alt Right gains prominence, so does the green Pepe meme of the white supremacist movement, now sometimes appearing in Nazi uniforms or sporting a little Hitler mustache above its reptilian lips. Last week Pepe appeared between Donald Trump and Rudolf Giuliani in an Alt Right meme reposted by Donald Trump Jr. and Trump strategist, Roger Stone. Among the people Photoshopped in line with Trump and Giuliani were a former Breitbart editor, who, according to MSNBC's Rachel Maddow, was previously banned from Twitter for posting racist messages, and Alex Jones, publisher of myriad right-wing conspiracy theories such as claiming that Michelle Obama murdered comedian Joan Rivers to prevent Rivers from outing her as a man.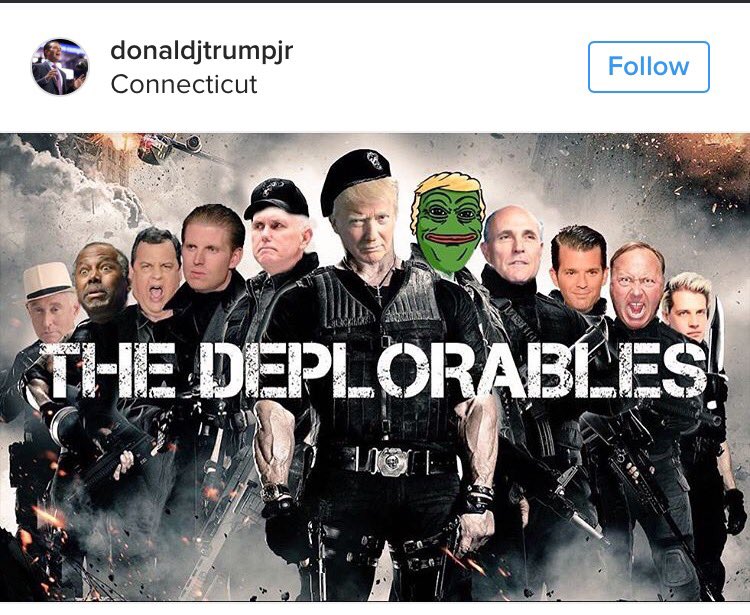 Photo courtesy of @donaldjtrumpjr
The image was lifted from a poster for the film, The Expendables, with the faces swapped out, and Clinton's line, "The Deplorables," superimposed—this as the Trump campaign took ownership of the phrase, with the presidential candidate expressing his love for his Deplorables.
This could just be bad judgement on Donald Jr.'s part. If so, it runs in the family. The peresidential candidate's father, Fred Trump, perhaps exercised bad judgment, according to the Washington Post, a generation before Donald, by getting arrested marching with the KKK in an anti-Catholic riot in Queens. If you were thinking that perhaps this skips a generation, Republican Presidential Candidate Trump's steady stream of racist foibles shows it doesn't. Or sexist comments, like his boast that he never ever changed any of his children's diapers or actively participated in basic child care responsibilities.
On the subject of religious tolerance, upon which our country was founded, Donald isn't doing much better than his dad. Last week, at the Values Voters summit in Washington, DC, according to NPR, the Republican candidate Trump expressed his vision for the nation as "as one people, under one God, saluting one flag." This is the same vision his father was promoting when he was arrested, and the same vision his white supremacist supporters are promoting.
Meanwhile, the country's largest police union, the Fraternal Order of Police, joined the New England Police Benevolent Association in endorsing Trump for president.
---
Dr. Michael I. Niman is a professor of journalism and media studies at Buffalo State College. His previous columns are archived at mediastudy.com and are available globally through syndication.